Old and new members, it's VERY important you read this. If you don't and something happens, you will simply be refereed to this post.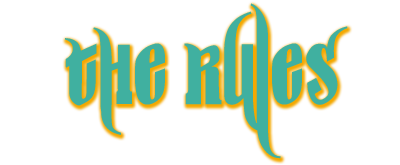 Our membership is moderated. We generally look for accounts active within at least the last year (see; updated), as we want chambr to be lively and interactive. If your membership request was rejected, you can contact any of the mods via
chambr_mods and you'll be told why you were rejected.

First off, respect - you must have it. People will share differing opinions, and thank god for that! If everyone was the same, the world, and the internet would be an incredibly boring place. Funny - or a sense of humor, you must also have. We're incredibly laid back, and it shows! Don't take everything to heart.

That being said, we don't have very much tolerance for drama. If we see, or even hear from a few members that you've been displaying some upsetting behavior, we will warn you. If the behavior is clearly out of line (flaming, trash talking, obvious troll spamming, perpetually picking fights, etc) you will be temporarily banned as to limit any further issues within
chambrofsekrits at that time. You will be contacted afterward and given a chance to explain your behavior. You will be notified afterward as to your "pending" membership in
chambrofsekrits.

→ If you're wanting to advertise your community, you must first contact the mod's via
chambr_mods , and get the okay first.

→ We are not a media-exchange comm. It's fine and dandy to request pictures, gifs & mp3's once in a while (We know you want the latest Wrock) but we've set up a Saturday Swop! So while random, "I NEED MORE DANCE GIF's!" post are fine, requesting things like CD's, other fandom photo's, etc, should be kept to the Saturday Swop (search for these post in the comm's tags here)

→ If you are having a problem with another user, please thread the conversation, link to the post, etc and send in a formal complaint to the page-a-mod. We've had many issues brought to us over AIM in the past, and while we like to speak to you all that way, we rather handle official chambr business in the appropriate comm's. Just state who the problems with and what exactly bothered you and we'll check it out and send you a message to let you know it's being taken care of or what we think on the matter. We will not answer you if you ask us via AIM (telling us you have a problem we need to see ASAP on
chambr_mods is fine).


All tags are mod-created only. This is due to previous problems sorting & finding post. For both our benefit and our members, we want the tags to be organized in a way that it is easy to find relevant post quickly and efficiently.
If you want to request a new tag, just simple at the bottom of your most recent post put a [clearly visible, but no sparkle text] note asking the mod's for what tag you would like. We'll add it as soon as we see it/find there isn't a tag already in use that is similar. See the current tag listings here.



All role players are required to register both their active
chambrofsekrits account and their role play account. You must first register your account here at
chambr_mods. Your RP account will be approved as soon as you've registered and there are no conflicting accounts. You will be sent a message telling you if you're account is unable to be accepted at this time, and the reasons why. A message will also be sent to you telling you when your character has been accepted!

After your character has been accepted, you must continue to stay active! Some characters are very popular and demand is high, so we ask that your character post at least 4 times a month (once a week). If your character is not active for a month period, your RP account will be deleted from the comm and you will not, I repeat, not be notified via private message (this is due to various lj settings and time constraints). After notification we will re-update the character list to include said character to give others a fair chance at role playing that character.


*as a sidenote: There are no rules that dictate how you roleplay your character, so you can be lulzy, srsbsns or a nice mix of the two. So chose who you like and have fun! That being said, we really want our RP'ers to enjoy what they're doing and the interaction that comes with being an RP'er. If you're going to take up the task, make sure you're devoted to interacting with members as well as other roleplayer's. There's nothing more depressing than being excited to see your favorite character (or roleplayer) and then not getting a response a day or two later. The main part of being a roleplayer is staying active!


The up-to-date character list and roleplay registry can be found both here & here respectively.
Any further questions in regards to the Roleplay Registry, or issues you may be having as a current role player, should be directed here!



There are constantly a ton of things you could be participating in on chambrofsekrits. We like to keep our members busy, and one way to do that is by having you guys help out and participate in some of our unique and fun member run "societies". Below are a list of ways you can help contribute, get to know your fellow members and or just simply have fun doing something!

→ Join our chatroom! We have regular chats in the evenings on AIM - a great way to get to know your fellow members and kill time (more info)

→ Join a Hogwarts house! Now's a good time to join a house and get to know people in a smaller community. Shenanigans within house common rooms ARE encouraged, and they're pretty much a house-centric place to discuss issues with like-minded people about topics some other people might not care about (I'm pretty sure the rest of us would all die if we had to deal with Revision with Rowena constantly!) Don't forget to sort members/be sorted!
*Sorting is entirely up to you and not mandatory. You may join the 1 house you feel the most comfortable in. If you choose to change houses, you must leave the other common room completely. Gryffindor, Slytherin, Ravenclaw,Hufflepuff

→ Post an HP secret! We have our very own secret community now and all HP or chambrofsekrits secrets are welcome! Tell us how much you love Ron. TELL US. (more info)

→ Submit a Pott! Each week we like to showcase an exceptional Pott who goes above and beyond for the community. If you know someone who fits that description, submit their name for Pott of the Week! (more info)


→ Where in the world is Harry Potter? Harry Potter wants to go on holiday and is thinking about spending it with you! That's right, this is a traveling toy project. For those of you not familiar with traveling toys, they're basically toys that you host and show around town just as you would with your real life guests. Think of the gnome in Amelie or the Travelocity gnome - they're out to see the world! Now we know we have Potts from all sorts of places so we hope we'll get a lot of participation in this. ( more info)


→ Roleplay! One of the most unique experiences at the Chambr is being able to interact with the characters, reinvented for your lulzy convenience. Hit on James, get insulted by Draco, lol at Lucius's weave, or secretly make your own rp account! You never know when they'll turn up so have fun with it. Make sure to register your RP account with the mods beforehand! (more info)


→ Post! This is the friendliest community there is, siriusly. We're a tight knit bunch, but we're also very welcoming! Don't be afraid to post random HP finds, your fanvids, fanfics, fanart, news, MFK polls, whatever.

→ Comment! The more opinions the merrier, even if someone else has a similar one. Or just start an icon war. GET BUSY!


→ OotL - chambr's own sekrit society dedicated to promoting
chambrofsekrits! Seriously, check this out - there's prizes. (moreinfo).

→ Do you feel your life just doesn't have meaning? Well it does now that you're following the ChambrOfSekrits Twitter! Keep yourself posted with reminders, status updates, and much much more when you follow the twitter ~ possibly even exclusive information you may have missed out on.



there are multiple more ways to find out, so to check out all of these ideas and more, I suggest you take a look at this post over here.



We ask that you don't create Chambr groups, and off-shots anywhere else on the internet such as a Myspace, a facebook group , ect. A lot of the time the mods have a lot of new plans for Chambr, and they may be what you're thinking , and we just don't want to spoil it. Not only that, but the mods like having everything together, and neat.

If you'd like to create an off-shot community associated with Chambr, or focused around it, please ask permission first. You can do so over
chambr_mods in this post.


For a list of affiliates and other quick links, check the userinfo or main side bar in chambr.

Rules are subject to change. If rules do change, we will make a notification post on Chambr.